Whether you are brand new to church or you've been around church for a while; we want to say welcome! We are excited to serve Jesus in this portion of the west Houston-area and we count it an honor when visitors join us. As such, it is the nature of our members to welcome you with warmth and to make you feel comfortable and at home. Even if you are not familiar with our traditional worship, it is our hope that after your first visit, you will feel as though you are already a part of the family. We invite you to come and find a home at St. Matthias as we all grow together in our Savior, Jesus Christ.
Sunday Worship (English): 10:30 am
Sunday Worship (Español): 2:00 pm
We are a church that believes in the Bible and worships in the rich tradition of the historic church
A Brief Parish History
A New Parish – 1982
Faced with the changing doctrinal landscape of the Episcopal Church of the 1970s, some members made the decision to establish a faithful Anglican parish which would
'contend earnestly for the faith which was once delivered to the saints'
(Jude 1:3) St. Matthias was born and the first service was held on the Feast of Pentecost 1982 in Baytown, TX.
Soon thereafter some of the founding members moved across the city and continued the ministry of the parish in Katy under the ministry of our
Rector Emeritus
, Fr. Jacob Feldhacker and those who served after his untimely passing in 1993.
In 1995, the parish affiliated with the Reformed Episcopal Church (REC) – a faithful anglican denomination which began over 140 years ago. The Reformed Episcopal Church is a founding jurisdiction of the Anglican Church in North America (ACNA) when it was founded in 2008.
As is the case with many mission parishes, our faithful members held services in homes and rented storefront properties and had short-term and visiting clergy in the early years. The Lord blessed our labors and provided a permanent location in 1993 when a vacant daycare facility was purchased. The building was renovated and provided a designated chapel for weekly worship and allowed the parish to start a daycare ministry that served the community until 2000. In 1998, the Lord again provided the means to purchase a vacant lot directly adjacent to its current property. The dream was that one day a proper sanctuary could be built on the property.
A New Priest – 2000
With a new millenium came new beginnings. In 2000, a newly ordained priest, Fr. Jason Grote, was called to be our Vicar
(a person in charge of a mission parish on behalf of the Bishop).
The daycare was closed and the building was further renovated to better serve the community as a church. When celebrating our 20th anniversary in 2002, we rejoiced as a new steeple was placed upon the building. A few years later, in 2004, Bishop Royal Grote moved his offices to Katy and designated St. Matthias as the Cathedral Parish of the Diocese of Mid-America of the Reformed Episcopal Church.
A New Sanctuary – 2005/06
It didn't take too long for the parish to outgrow the size of the chapel and a building project was undertaken in 2005. The dream that the vacant lot would one day hold a new Sanctuary would be realized. We dedicated the new Sanctuary on our 24th anniversary on the Feast of Pentecost 2016. At the same time, the parish hall was designated Johnson Hall in honor of Harry K. Johnson, III & his wife (Deaconess Annette) who, as founding and charter members, have been faithful servants in the parish to this day.
St. Barnabas – Bellville – 2005
In God's providence, some members were commuting to St. Matthias from Bellville (about 35 miles away). Even though we were on the verge of our building project, we felt called to begin the process of planting a new parish in Bellville. On Pentecost 2005, Fr. Jason and members held the inaugural worship service of what would later become St. Barnabas Anglican Church.
Latino Ministry –
2017
The Lord again opened the doors of opportunity to increase His ministry by helping us fulfill a long-time dream of establishing a Spanish service at St. Matthias. Fr. Sigfrido Morales and his family came to St. Matthias from Venezuela in 2016. Through his (and our) relationship with the Anglican Church in North America we were able to embrace Fr. Sigfrido's ministry a St. Matthias. On May 21, 2017 the first Spanish Communion service was held. Fr. Sigfrido continues to offer a Spanish Communion service each Sunday at 2:00pm.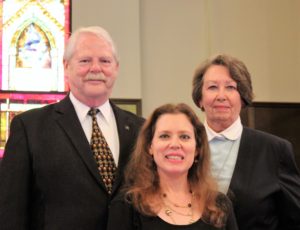 Harry & Dss. Annette Johnson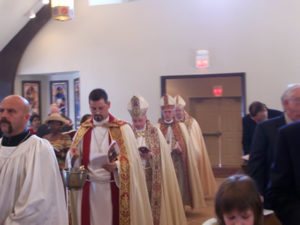 The Dedication of the New Sanctuary (2006)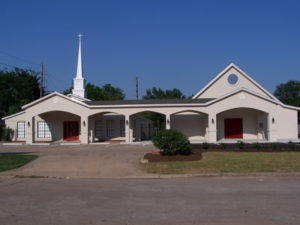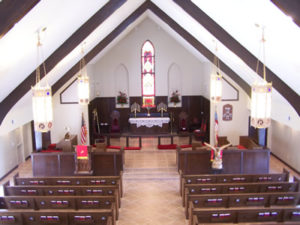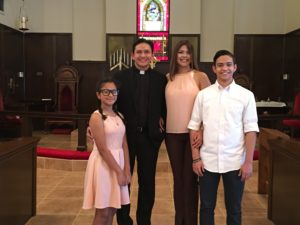 Began our Latino Ministry 2017