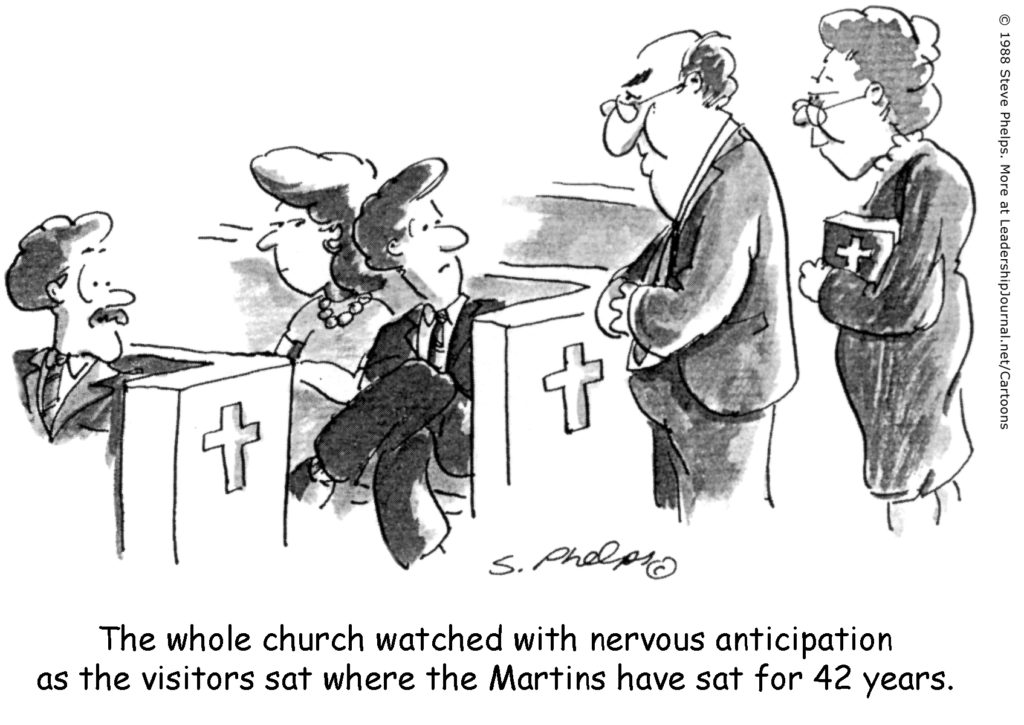 Visiting a new church can be a scary thing when you don't know what to expect
Frequently Asked Questions
Is St. Matthias a big or small church?
The best way to answer that question is to say that we are a growing church. Our regular Sunday morning worship English service averages around 50-60 people. The Sunday afternoon Spanish service averages about 25 people. This may seem small compared to the larger churches of today, but one advantage of joining a church like St. Matthias is the family relationships and atmosphere. Like the TV show "Cheers", St. Matthias is a place where 'everybody knows your name' and where everyone 'is glad you came'. If you are looking for a church where you can remain anonymous, then St. Matthias may not be the best place for you. But if you want to form close relationships and to help each other grow in the Lord then come on in and visit us!
What 'type' of worship do you have?
Our worship service is a very traditional worship that involves listening, speaking, singing, standing, sitting, kneeling (if you're able to), and even eating (Communion). In other words – it is a 'whole person' worship where you are spiritually nourished in your mind, body, and soul. As Anglicans, we use a Book of Common Prayer (BCP) for our worship. The BCP contains a specific order and pattern for our worship. The order of worship is the same each week with certain portions changing (like the hymns and the scripture lessons). You will discover that the BCP and the traditional worship you experience at St. Matthias will help teach and form you as your attention is drawn away from yourself and focused on who God is and what He has done for you in Jesus. Most every week we celebrate Holy Communion (sometimes referred to as the Lord's Supper or The Eucharist). If you are familiar with the historic Episcopal Church, we use a liturgy that is the same as the 1928 Book of Common Prayer.
I've never been in a traditional church before!
You don't need to worry about that. While some people who have done it all their life may know the worship service backwards and forwards without any help, we know that many people are not familiar with traditional worship or how to flip to different places in the Prayer Book at different times. It can be both confusing and upsetting when you finally find the right page and we're already on to another page. Our goal is to help you participate in worship the very first time you are here. This is why we print the entire worship service (except the hymns) in the bulletin each week in an easy to follow format. As you become more familiar with our worship and as you go through a new members or discipleship class, you will be introduced to and taught how to use the Book of Common Prayer.
Do you sing and what type of music do you have in worship?
Absolutely! Singing is an integral part of worshipful prayer and praise. We do take care to ensure that what we sing also teaches and proclaims the truths of Christ and what we learn in the Bible. In other words, our singing must reflect and teach out theology. Although we recognize that there is freedom (within certain limits) in what and how congregations sing, it is the tradition of St. Matthias to sing mostly traditional hymns from a hymn book that are accompanied by an organ and/or piano. If you are familiar with the historic Episcopal Church, many of our hymns would be found in the 1940 Hymnal.
How long is your worship service?
Since our worship comes from the Book of Common Prayer, the length of the service is pretty much the same every week. The only thing that varies are the length of the Bible lessons, the Sermon, and the time it takes to distribute communion. Father Jason typically preaches around 15 minutes. Overall, our service is roughly one hour and fifteen minutes. (
View a sample of our worship service
).
How do y'all dress for worship?
The important thing and question to ask regarding how you dress for worship is this – "Will what I wear be respectful to God and to God's people around me?"
As a traditional church, you will find many men and women who will come in dressed in suits and dresses – especially on really important days like Christmas and Easter. However, you will also find many who come dressed more casually (jeans and sneakers). While we do not enforce a dress code, we do ask that your clothes be respectful to God and others. Unless you have nothing else to wear, we do ask that you would avoid wearing overly casual or revealing clothing (tank tops, halter tops, mini-skirts, torn pants, inappropriate slogan t-shirts, etc).
We have young children. What can we expect?
We wholeheartedly believe that worship should includes the entire family and is an integral part in raising and rearing children in the ways of God. We also understand that children can have sudden outbursts or get fidgety. We are used to that! In those times when a child can't calm down or when a parent needs a breather trying to handle their children, we do have a nursery/cry-room that is available for them to use in the back of the church.
Can I come to Communion at St. Matthias?
St. Matthias is a parish that invites everyone to Communion provided that they are baptized in the name of the Father, the Son, and the Holy Ghost and that they love our Divine Lord and Savior Jesus Christ with all sincerity. Fr. Jason may refuse communion to someone who is openly unrepentant of their sinful behavior and who does not desire to change and to be faithful to God's Holy Word. If such is known, Fr. Jason will attempt to pastorally talk to the person privately about the situation.
Can my children have Communion?
For practical reasons, Fr. Jason will usually bless children until the age of about two. After this, Fr. Jason will ask parents whether they want their children to partake or not (as long as they are baptized). Based on the desires of the parents, Fr. Jason will either commune the children or offer them a blessing.
What is your pastor like?
Well, that may depend on who you ask, but the answer most will give is that he is a pretty normal and laid-back guy. Fr. Jason was born in 1973 in Pennsylvania and was raised in New Jersey. Growing up he played football and competed on the state level in javelin throwing. During and after high school, Fr. Jason worked in banking and accounting until he decided to go to Seminary. After graduating seminary in 1998, he was ordained and began serving in the Church. In 2000, he began his ministry at St. Matthias. Fr. Jason happened to meet his future wife, Elizabeth, at St. Matthias and they were married in 2004. They had their son (Aidan) and daughter (Avery) in 2005 and 2008, respectively. During this same time, he enrolled at the University of Houston and obtained a Bachelor of Business Degree and finalizing his Master of Divinity degree. Not only does Fr. Jason pastor St. Matthias but he also wears many other hats in service to the denomination. He serves as the treasurer for the Diocese of Mid-America, the Reformed Episcopal Church's Board of Foreign Missions, Cranmer Theological House (seminary), and the webmaster for the Reformed Episcopal Church and the Diocese of Mid-America (and even of this parish website). In 2017, Fr. Jason was appointed by Bishop Sutton to be the National Canon Missioner which means he is responsible for coordinating the church planting efforts of the Reformed Episcopal Church in North America. Fr. Jason was an avid golfer for years and is a die hard Philadelphia Eagles football fan. Don't worry – if you root for the Dallas Cowboys he won't hold it against you (too much)!
What is expected of me if I become a member?
This answer can be answered with these simple words – Believe, Commit & Serve, Share.
We expect that all our members believe in the fundamental truths of the Christian faith and respect the authorities of the structure of the Reformed Episcopal Church (REC). You can read more about these beliefs on our beliefs page and/or visit the "About us" page on the Reformed Episcopal Church website.
We expect that members will continually grow in their personal commitment to God and to His church, most particularly at whatever local parish they attend. In this case, it would be a growing commitment to St. Matthias. Such a personal commitment would include regular attendance at weekly worship and seeking to learn more and more about God and His will. Such a commitment also includes expressing your faith through a healthy prayer life, with proper/holy living, and by sacrificially giving of yourself to the work of God and His church. We embrace the tithe (10%) as the biblical model of financial giving and do ask that our members commit themselves to the regular financial support of the parish. But giving and sacrifice is not only a matter of finances. We also recognize that God gives each of us gifts that we are to use for the well being and building up of others. Members of the parish are asked to serve in different ways. On a regular weekly basis, this may include ushering, serving at the altar, cleaning, cooking, hosting small groups, teaching, and so on. New members will be asked what areas of service they may feel comfortable with. At other times, members will be asked to support the needs and service to the community around us as opportunities present themselves.
We expect that members will share their lives with us at the parish and that they will share their faith with others as the move about in the world. We have a fundamental belief that God has called us into a family. The Bible uses different words (i.e., household, kingdom, body, etc) but they all express that same truth. So we must take opportunities to cultivate and share our relationships with each other. Likewise, we believe that such sharing is the foundation to effective missions. The relationships and faith you share with others will be the single greatest contribution towards bringing others into a relationship with the Lord. A simple phrase to remember might go like this – "To show you care… you must share!"
Need Prayer? We'll Pray For You
Need prayer? We would love to pray for you. You can send us a message for prayer.